The latest in preprint innovations from sciety.org, the home of public preprint curation.
🚀 What's new?
We're continuing our focus to evolve Sciety to indicate the value of preprint review and curation to readers and communities alike.
Home page
Our latest home page updates include a section that describes the three key roles we see for Sciety in promoting preprint review and curation.
A central place for preprints, reviews and recommendations
Discover the next advancement in your field
Organise and share what you are reading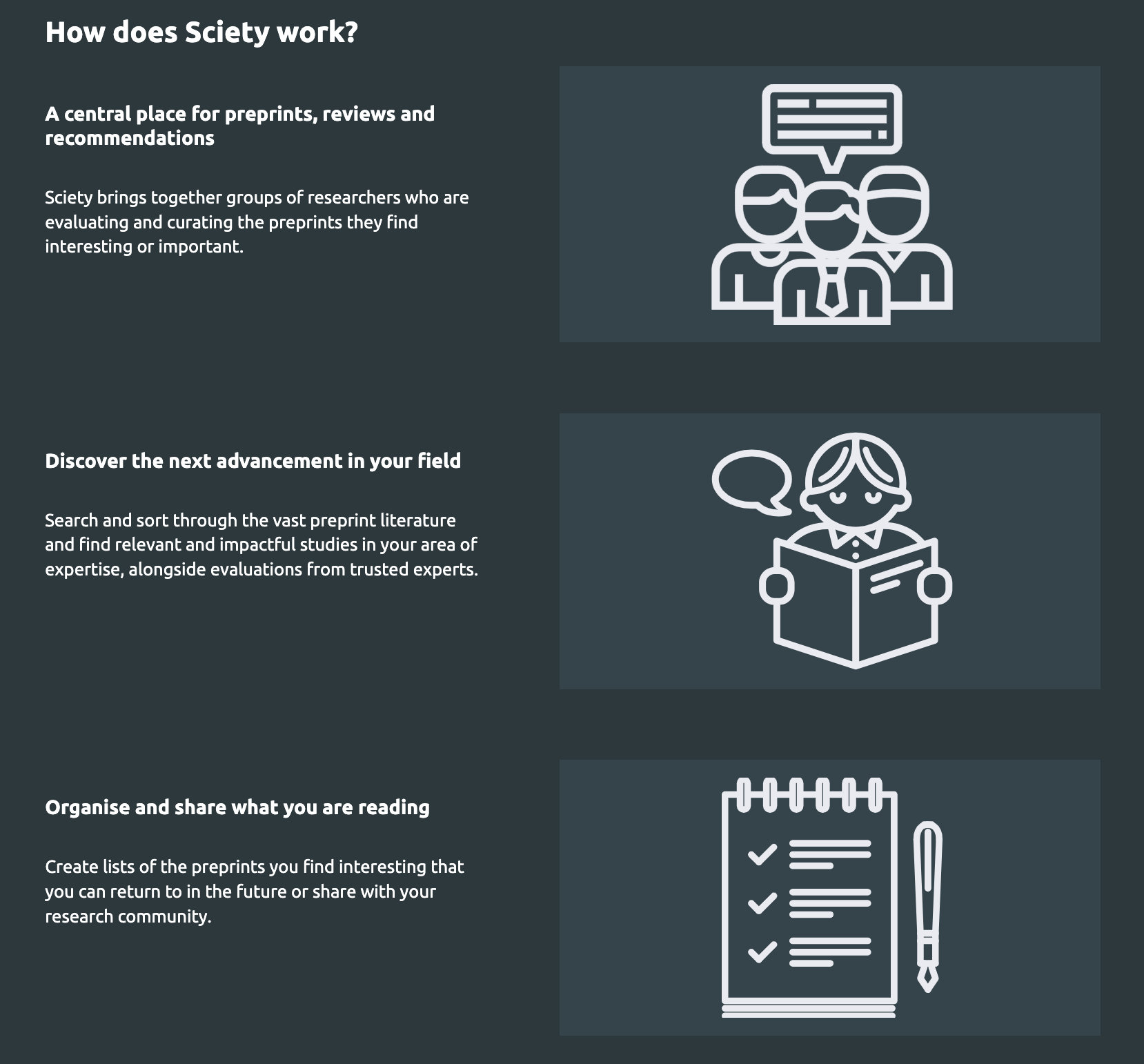 Curation statements on article pages
In our last update we introduced curation statements to the homepage. We've now expanded this to article pages. If you navigate to an article that has been curated by a group (assessed/endorsed/summarised etc.), you will see these statements at the top of the article, helping readers understand at a glance why people think the preprint is interesting or important.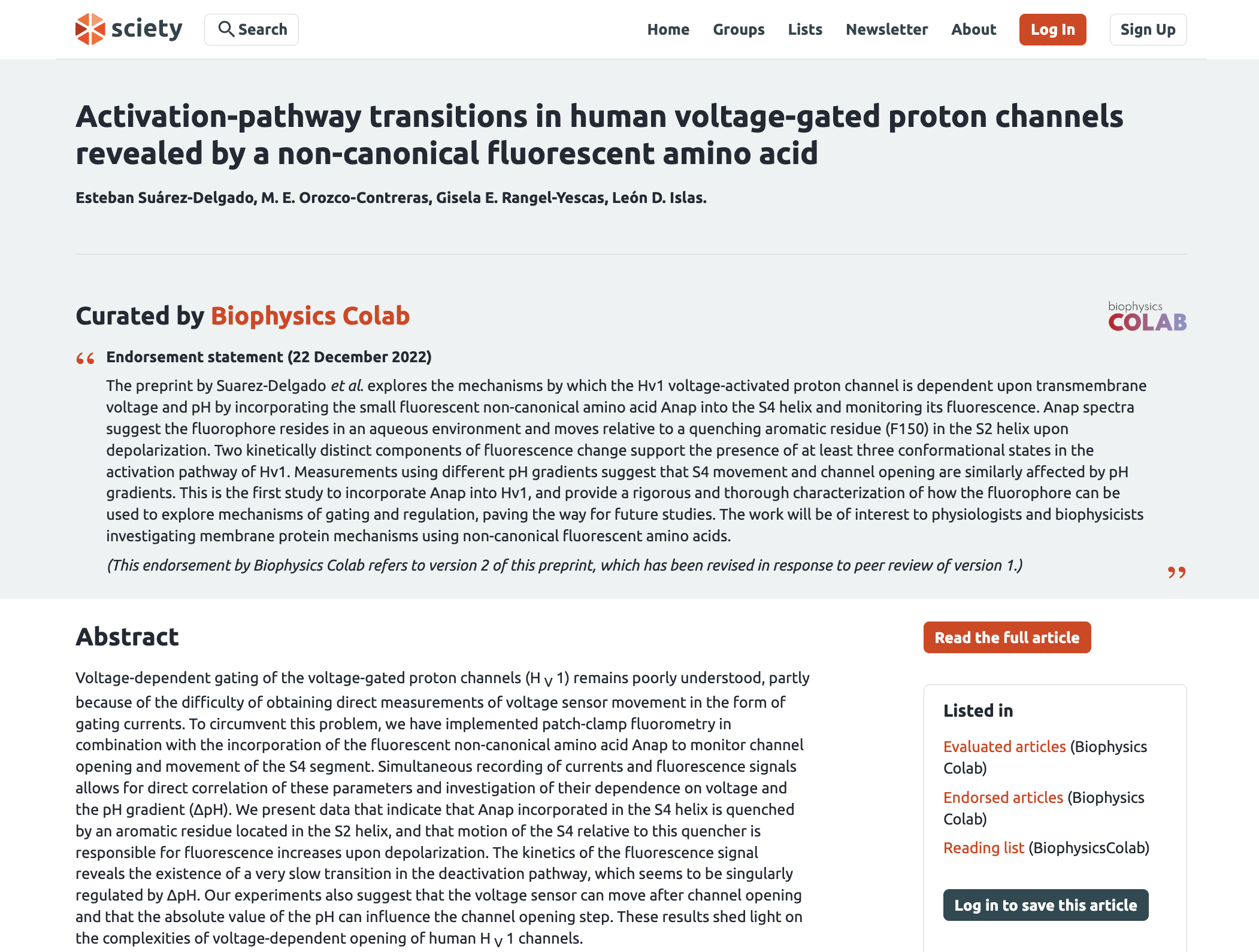 You can also find the curation statements in search results and in lists

We have also:
Facilitated displaying images on article pages. Where previously we took the decision to remove images as they are inaccessible to screen readers, Sciety will now show these images and we will encourage the use of alt text from our evaluation providers.
Improved experience for users navigating the site on mobile devices by adding the Sciety logo to each page and improving the functionality of the menu.
Improved accessibility through adjusting colour contrast in our list management on the article pages.
Removed the review found helpful/unhelpful feature. We have seen value in authors thanking reviewers using this feature, but we aim to focus on this in the future.
🧪 Sciety Labs
Topic feeds: We've improved feeds on labs and introduced Topic Feeds. There are now five feeds based on search (Plant Science, Neuroscience, Aging Science, Microbiology and Bioinformatics). They are all listed on the Feeds page and linked from Sciety Labs homepage .We identified those topics as topic-based Twitter accounts with the most number of followers. AI was used for the underlying search terms, description and image. We've begun sharing these feeds on Mastodon and would love to get more feedback.
Create a feed: in addition to following Topic Feeds, people can create their own feed of preprints based on a keyword search.
Sciety Labs is an experimental site that the team use to test out functionality by incorporating data points and external APIs. It is not intended for general use and may be updated frequently. If you are interested in helping us try out the latest technology please schedule a call with the team.
Check out our other experiments
🔭 What's next?
You can now see the direction Sciety is taking from the evolving home page and article pages, our focus is on clarifying the terminology around preprint review and curation and making Sciety a home for future curating groups. We are now looking at signifying curation activity on article pages and group pages and how we provide greater autonomy to readers and curators.
💡 Let us know what you think
We want to build Sciety with you and we welcome all feedback and ideas. Book a 1:1 call with the team to learn more about our latest changes and help us plan the for the future for equitable, open research outputs.
🔗 Stay connected
We'll be back in a couple of weeks with everything that's happening on Sciety.
Until then, you can find us on Twitter, Mastodon, Facebook, LinkedIn and Youtube.