Whether you are just starting out on your journey to improve open science through evaluating preprints or you have an established process for your lab or team, showcasing your work on Sciety helps promote preprint review in one place on the web.
The Sciety team is available to offer advice to help you choose the best options for you. Here are a few examples, depending on where you are in your journey.
Considering
If you are new to the world of preprint evaluation, then PREreview can help. PREreview's mission is to bring more equity and transparency to scholarly peer review by supporting and empowering communities of researchers, particularly those at early stages of their career (ECRs) and historically excluded, to review preprints in a process that is rewarding to them. They offer advice and hands-on article review workshops, and articles reviewed by PREreview communities appear in the PREreview group page on Sciety.
Evaluating
If you are currently evaluating preprints as a group, a hypothes.is basic user account might be your best option to showcase these on Sciety.
Go to hypothes.is and set up a user with the name of your reviewing group eg. if your group is called 'The Unjournal', you could set it up as https://hypothes.is/users/theunjournal
Install the Hypothes.is chrome extension
Find the preprint you wish to evaluate and open the associated article page
Post your evaluation/review in the public channel
Fill in our group joining form to have your group created on Sciety and we'll do the rest :)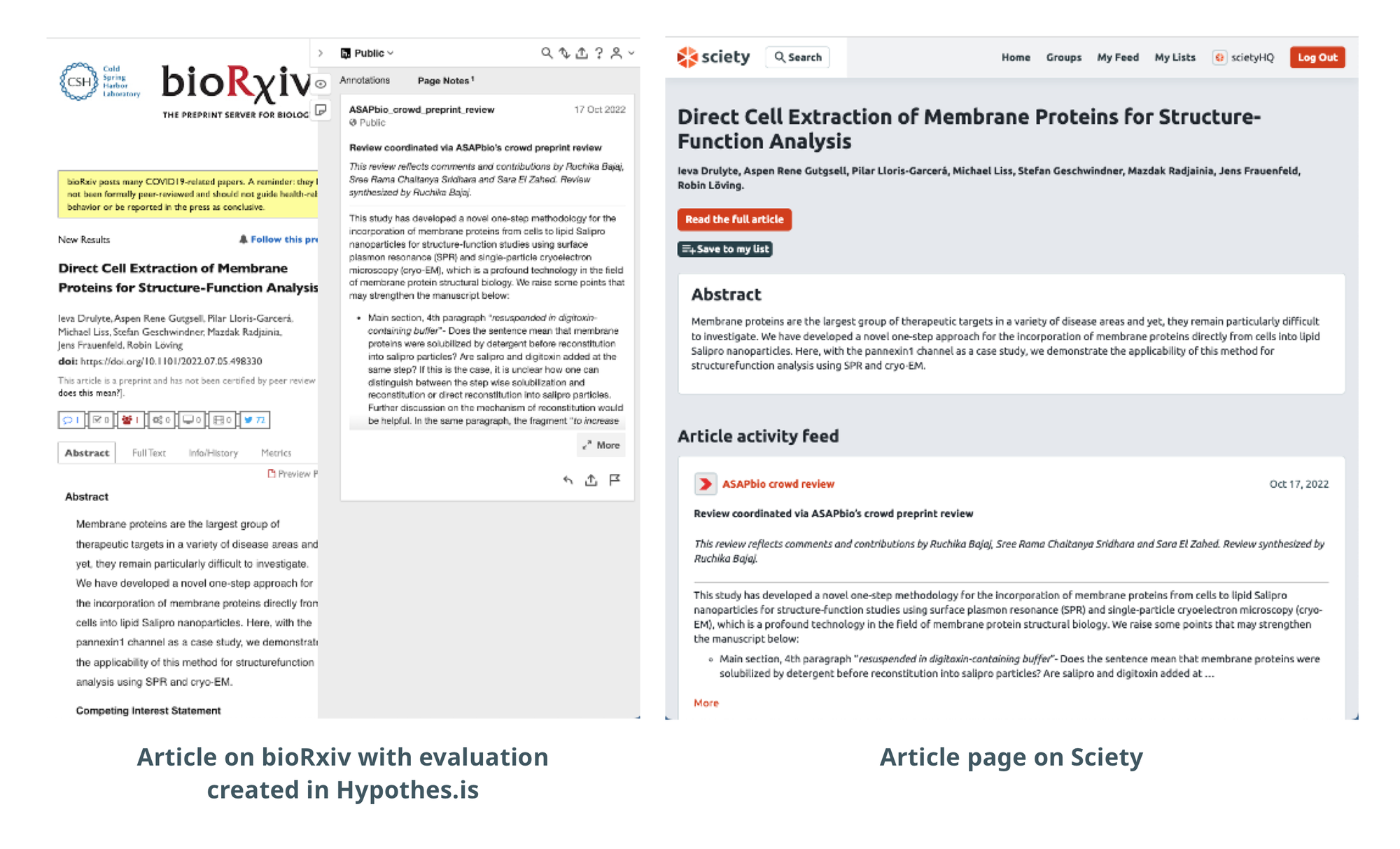 Evaluating & Curating
If you're looking for a place to import preprints and manage an end-to-end peer review and publishing workflow then Kotahi is the platform for you. This low-cost option will appeal to groups with multiple members and roles who want to scale up. With built-in features that support PRC workflows; including customisable submission, review and evaluation forms, author & reviewer email invitations, task schedulers and the option to register DOIs. If you want to spend less time following up with stakeholders and more time evaluating, then Kotahi is right for you.
Other considerations
There are plenty of options open to you as you develop your community and the Sciety team are happy to discuss them with you.
Do you need your own web presence? You may want to create a web and social media presence for your group. There are plenty of free options to create a website, but it's worth considering the time it takes to maintain your web presence and avoid duplicating your efforts in multiple places. Sciety is developing group home pages to offer you a place on the web to showcase your work.
How do you know if your efforts are playing out? Evaluating preprints takes time and it's important to know who's engaging with your work. Sciety provides you with rich data dashboards to give you an overview of your curation activity.
How do you keep up with the amount of preprints being published in your subject area? Navigating your way through the maze of emerging preprint literature can be hard. You might see new preprints coming across your desk and you might follow bots on Twitter that post about the latest research. Sciety combines all these sources into AI assisted article recommendations. Decide what to read or evaluate next based on what you have read or evaluated previously.