We continued to work on onboarding journey's this week in amongst making sure that we are confident that anything we release on the Sciety site is working properly.
🚀 In delivery
We'd love to talk to more people about their research discovery habits, so we've added links to the FAQ and about page to book a call with us. You can also do so from this post :)
We've updated our sign-up form to make sure we are  case insensitive when it comes to user handles in URLs and make it less confusing when you sign up.
As a result of a random poll amongst colleagues, we've updated our placeholder text to call out an important scientist on our upcoming sign-up form. Alec Jeffreys developed DNA fingerprinting used in forensic science. As a result, 18 death row inmates have been exonerated.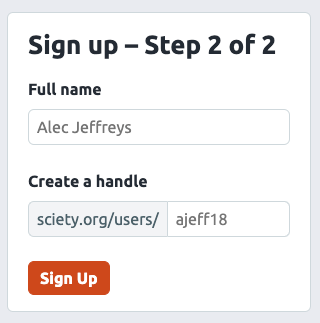 As a result of upgrading our tooling, we lost and then found  traffic data and observability of user journeys in Sciety. It's an important piece of work to ensure that nothing is broken when we ship it to people.
We've increased application resilience and made search results faster.
🕵️ In discovery
We're evaluating the new sign-up flow on Sciety before releasing it to people. Initial feedback helped us understand where the process was confusing and enabled us to improve it. More testing during the next couple of weeks.
👀 At a glance
Some weekly stats you might find interesting. This details the number of evaluations added to Sciety, the articles that have been evaluated and the articles that have been added to lists.‌